Fiona Michell has stirred controversy online with her not-so-cryptic message to billionaire heiress, DJ Cuppy.
Recall that Ryan's relationship with Fiona came to light a few days after his engagement with Cuppy and online investigators connected the dots (and tattoos).
Fiona had posted a loved-up video of herself and a man whose tattoos matched Ryan's a few weeks before he proposed to Cuppy in Dubai.
Taking to her TikTok page, the influencer shared a video giving Dj Cuppy reasons why she could date her ex.
According to Fiona, she claimed it was okay for Cuppy to date her ex because he was a liar and a cheat.
Watch the video below,
See some reactions below,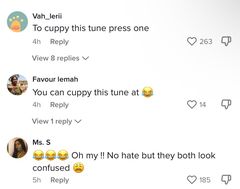 In related news, billionaire heiress and actress, Temi Otedola sent netizens into a frenzy over a cryptic post she shared on her Instagram page.
Temi, who is engaged to be married to popular singer, Mr Eazi, in her recent post on Instagram, shared a series of photos capturing different moments in her life.
The 26-year-old movie star had posted a screenshot of her chat with an undisclosed person where she sent a photo of her weeping on the bed, with the caption, "ur next slay is always after your last cry".
Even more confusing was the fact that she captioned the post with a suggestive comment which has raised different speculations in the Nigerian cyber space.
According to Temi, daughter of billionaire oil mogul, Femi Otedola, she has forgiven someone and forgotten their offense.
"Forgiven and forgotten", she wrote. Read here.