YBNL's newest talent, Senth, has released the tracklist to his debut EP titled Senth Of Her.
A five track EP A&Red and executive produced by label boss, Olamide Adedeji, the tracklist promises a solo offering from the singer and credits him as the producers of two records on the project. Senth Of Her is to be released on Thursday, the 8th of December.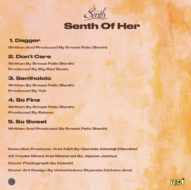 The singer had earlier hit the scene with "Dagger" as his official debut under YBNL on the 17th of November.