Uriel Oputa has revealed the unexpected thing a suitor did after she refused to have sexual intercourse with him.
Taking to her Instastory, Uriel said the suitor who arrived Nigeria from abroad in December went above and beyond to woo her and even promised to marry her.
However, she received a rude shock after she refused to get intimate with him. According to her, the next morning, the man changed his display photo to a picture of his traditional wedding to another woman.
Uriel wrote,
"OMO
MY FIRST CHRISTMAS IN NIGERIA YO!!!
SO I OFFICIALLY UNDERSTAND DIRTY DECEMBER
YO!! SOME GUYS (NOT ALL) ESPECIALLY FROM THE ABROAD WILL TOAST YOU LIKE NEXT WEEK THEY WILL ENGAGE YOU.
EVERYTHING GOING WELL UNTIL YOU REFUSE TO HAVE… JIGGY JIGGY (LOOK !! MY GOODIES AREN'T EASY)
E SHOCK ME
I SAID NO
THE NEXT MORNING HIS DP CHANGED TO TRADITIONAL WEDDING PICTURE,
OMO I WENT TO LOOK FOR MY READING GLASSES. I NO BELIEVE AM I MESSAGED HIM HIS REPLY WAS
YOU HAVE A GOOD HEART
HAPPY NEW YEAR..
FAM!!!!!!!!!!!!!!!!! I NEVER EXPEDITED"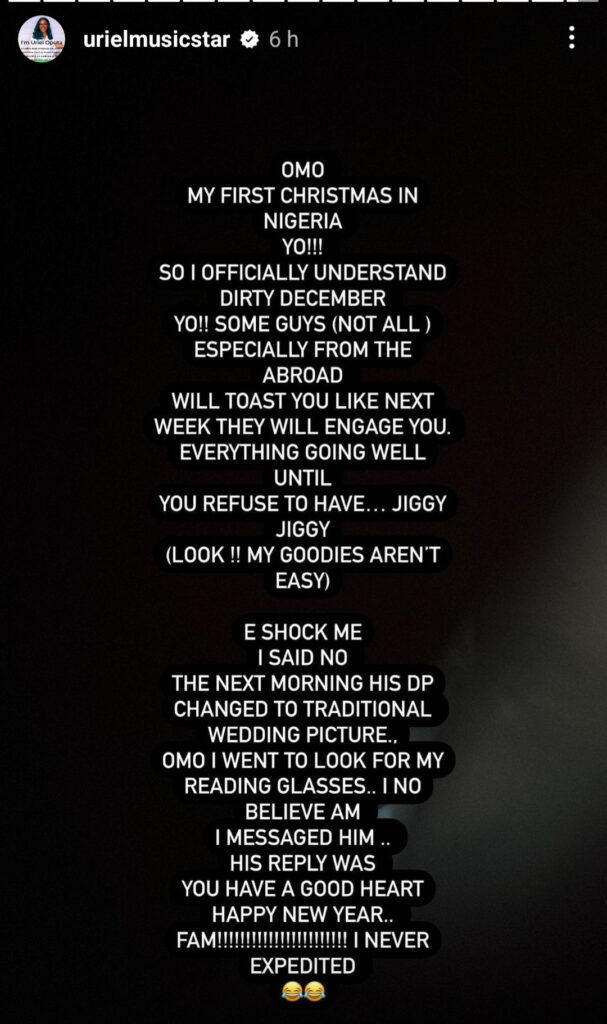 A while back, Uriel revealed why she would never post about her man on social media.
Uriel made this declaration on Thursday night while responding to a troll who assumed she had no man despite her good looks.
Uriel said she wanted to collect her breakfast in private without worrying about people waiting for her to mess things up.