Nigerian twin brothers, Taiwo and Kehinde Sanuade have been awarded first-class degrees in law by the University of Ibadan.
The good news was announced by Taiwo on social media.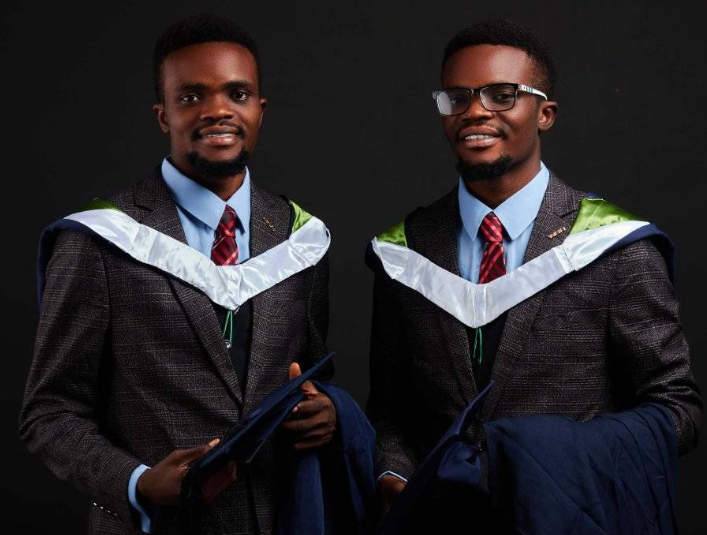 He uploaded pictures of their convocation and captioned it;
"Happy Convocation to us:
SANUADE, Taiwo David (LL.B) (UI) (First Class Honours)
SANUADE, Kehinde Daniel (LL.B) (UI) (First Class Honours)
Thank you Jesus. The honour of this is for Jesus who has graciously given us wisdom and the necessary resources to pull this through."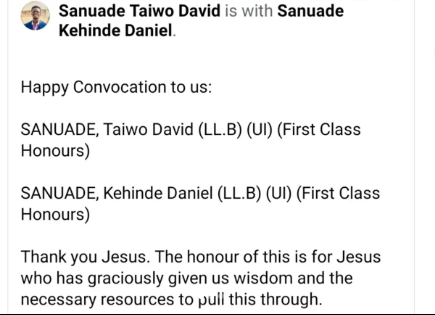 In other news, a young man has faced heavy criticism on social media for the way he treated his mother at his graduation ceremony.
In a video serving the round online, the young man who was graduating and dressed in a black graduation garb walked out on his mother, who tried to offer him a ribbon.
The mum, who was visibly ecstatic that her son was graduating, dashed towards him with a floral ribbon to place on his neck, but he clearly wasn't having it.
As his mother got to him with the blue ribbon and attempted to place it on his neck, he used his hand to shove the ribbon aside before he walked out.
According to him, it was embarrassing to see her bringing a ribbon to place on his neck amid the crowd during his graduation.
The mother glanced at the ribbon as he walked away, looking dejected.
The video has since gone viral and prompted a deluge of comments from social media users, the majority of whom berated the youngster and accused him of humiliating his mother.
Reacting one @delaiza_nipsey said, "I can't do this to my mom. She's the most amazing and wonderful gift from God. Idc if it's just me, but I would run towards momma. Not away from her."
@Mirabelle, "Meanwhile someone doesn't even have someone to show up for them".