Media celebrity and skit maker, Tony Frank has counseled other men to avoid attractive women if they are financially unstable.
He posted this advice on his Instagram page and revealed that pretty ladies require high maintenance for their beauty.

In that regard, it was unacceptable for a poor guy to refer to a beautiful woman as a gold digger when it was he who had initially exceeded his boundaries with his taste.
"Fine girl no suppose Enter your eye if your pocket no gallant. Before you call person pikin Gold Digger, cause na money she Dey use maintain that beauty wey dey Enter Your Eye.
To be frank, it's Tony frank."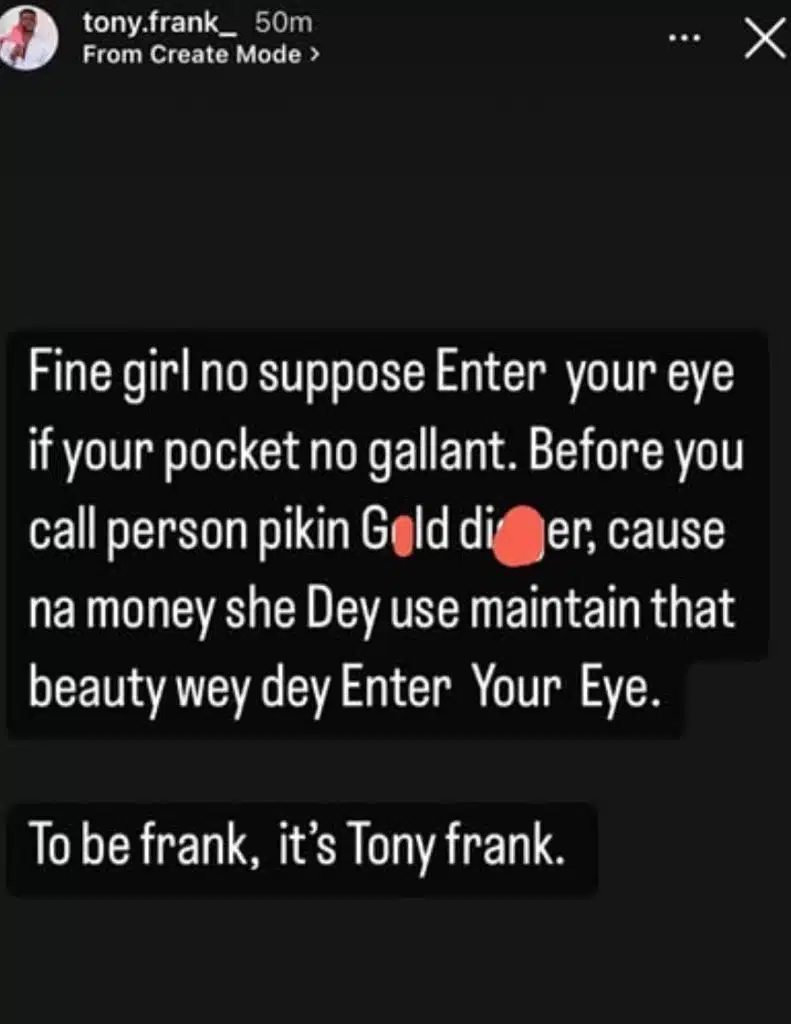 In related news, reality TV star, Uriel Oputa, has reacted to a post about the level of respect men get for spending on their partners and advised ladies to stop using their men as banks.
The chef told ladies in a post via her Instagram stories to earn their money instead and take care of their men too because a relationship required two people giving.
"But what happened to having your own? Women your man is not your bank
it's good to have the occasional treats but how about my king tonight is my treat.
i bought you a new watch zaddy or baby pack your bags we going on a weekend break
you no need to even off clothes before you go hear am
on a real i would even get tired of asking babe all the time
honestly knowing me i will write delete write again
shame go catch me but when you both treat each other e go sweet pass
let's normalise gifting our babes/zaddy /king" she wrote.