Electrifying singer, Tems has added a new feather to her hat of achievements as she hit a billion streams across all credits on Spotify.
This report had come on the 16th of November from music data account, Chart Data as an indicator that an additional of the streams of all of Tems' songs both as a solo act or featured act has totalled a whopping one billion streams.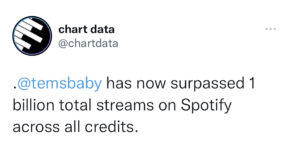 Currently, Tems top 5 songs on Spotify include "Wait 4 U" by Future featuring Drake at 315+ million streams, "Essence" by Wizkid– 142+ million streams, "Free Mind"– 50 million+ streams, "Higher"– 32 million+ streams as well as "Fountains" with Drake at 90+ million streams. While the singer's record on Beyonce's "Move" also pulls some streaming weight.
With this development, Tems joins an elite and exclusive group of African artiste that have hit the one billion streams milestone on Spotify such as Wizkid who had according to Chart Data, grossed 5 billion streams. CKay has also hit the 1 billion mark and surpassed it.