Ruth Kadiri-Ezerika has showed off her second daughter's face for the first time since her birth.
The thespian, who welcomed her second child, Emerald Chizara Ezerika, on July 20, 2022, took to her Instagram page to share first photo of the beautiful little girl.
She simply captioned the photo, "Emerald".
Ruth also has another daughter with her husband named Reign, born in August 2019.
See her post below,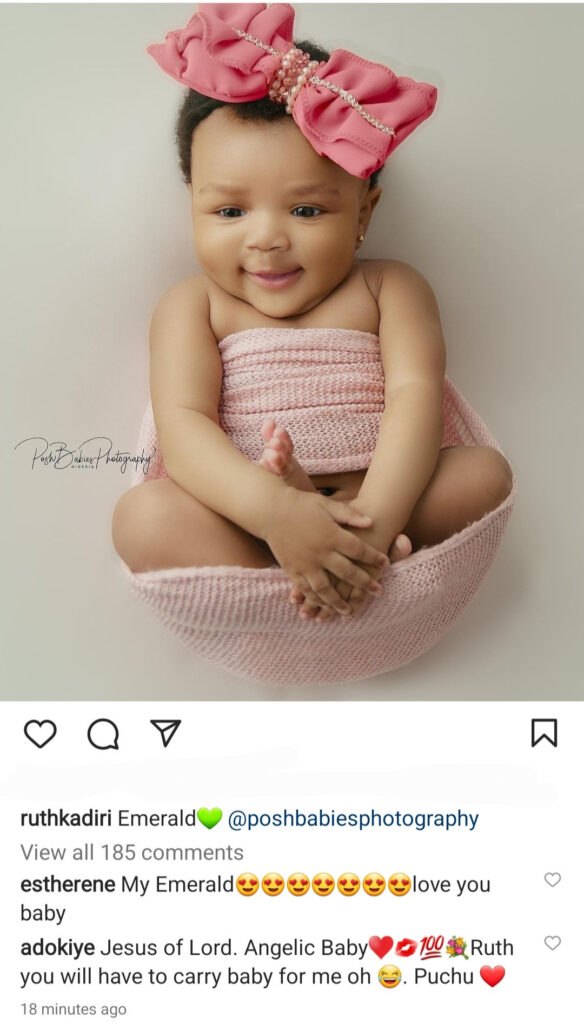 A while back, Ruth stirred hilarious reactions after she tendered a public apology to those she might have offended during her pregnancy.
The actress, who recently welcomed her second child with her husband, Mr. Ezerika, sent her apologies to everyone she may have upset during her nine-month pregnancy.
According to her, pregnancy hormones should be blamed for her actions during that period.
"Anybody I have offended in the last 9 months, please forgive me, it's pregnancy hormones. But anybody that offended me in last 9 months avoid me. You have issues." She wrote.
Kadiri's post received several humorous responses from her colleagues as they shared their encounters with her during the pregnancy.
Actor, Baba Rex, wrote, "What of me. Wey u use pregnancy act with. We made mad wife with pregnancy 
. U gats tell me sorry personally 
".