Burna Boy and Stefflon Don have once again made a simultaneous return to the Twitter trend tables and have become a hot topic following a post made by the singer's rapper ex-girlfriend.
This had ensued after Stefflon Don, who's a fan of online challenges, had hopped on the "Row row" TikTok challenge which typically features the video creator expressing joy and gratitude over a subject of their choice. In this case, the British rapper had created a version with the caption "When he's a man and not a mummy's boy
"
This TikTok promptly gave rise to a wave of speculations with many viewers contemplating that it was a shot at her ex, Burna Boy who's managed by his mom, Bose Ogulu.
Burna Boy himself soon joined the group chat with a supposed subliminal as he posted the words; "Move on" seven hours after Stefflon Don shared her TikTok on Twitter.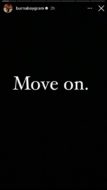 This has further strengthened speculations on the subject of Stefflon Don's post, resulting in the two artistes getting a slot on the Twitter trend tables.