Big Brother Naija season 6 star, Angel JB Smith, has cried out on social media after experiencing heartbreak.
In a series of tweets, recounting the experience, Angel said her now ex-lover suddenly severed ties with her without a prior argument.
She said he woke up one morning and blocked her everywhere, making it impossible to reach him ever since.
According to Angel, it is disheartening because she had thought she was the love of his life and that they had foresight into the future.
She then pleaded with Nigerians to help him beg him.
"My ex really woke up one day and decided to block me everywhere; bae; I thought I was the love of you life. I thought we had some foresight in the future. You people should help me beg him o". She wrote on Twitter.
See her posts below,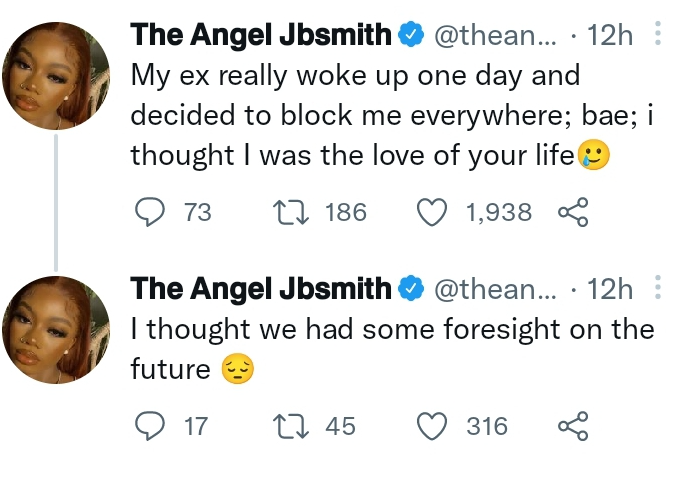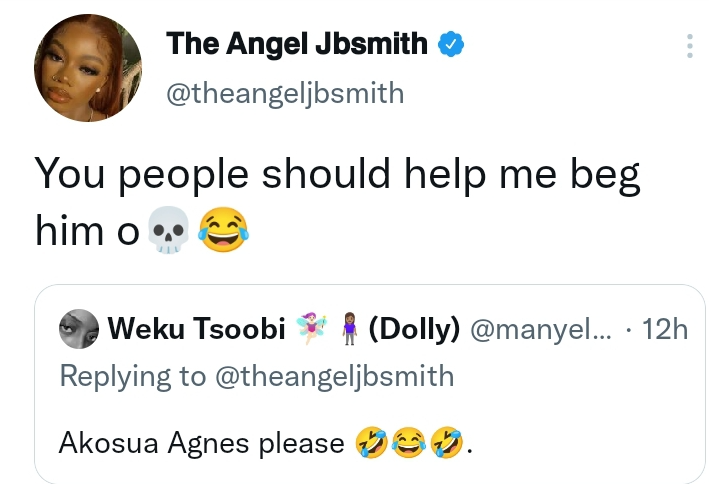 In other news, a single mother of one has been left devastated after her fiancé broke off their engagement.
In the chats that the lady simply identified as Favour shared, showing how her fiancé, whom she dubbed "Her Everlasting," ended their relationship, he just said he no longer wanted anything to do with her and provided no explanation.
The heartbroken lady repeatedly inquired what she had done wrong that made him decide to end their relationship, and he responded by saying, "I gave you a ring because I wanted to, and now I don't want to anymore."
He further stated that although they are no longer an item, he doesn't intend to take the ring he had used to propose to her and suggested that she sell it to take care of herself and her child. Read here.