Actor, Samuel Perry better known as Broda Shhaggi, has urged African fathers to show more love and affection to their children.
Shaggi, in a post shared via his Instastory, encouraged fathers to hug their children more and express their love for them instead of being hard-hearted.
According to the 29-year-old comedian, he can't wait to have kids so he can shower them with love, care, and express how much he loves them at any given opportunity
He wrote,
"African fathers please hug your children! love them ….it matters a lot!
No be when pikin won enter University, you go give am first hug
I definitely will want my future kids to say "daddy I love you" every time they wake up.
I can't wait to draw them so close to my heart that they will hear every beat coming from my heart.
Normalize telling your kids how much you love them."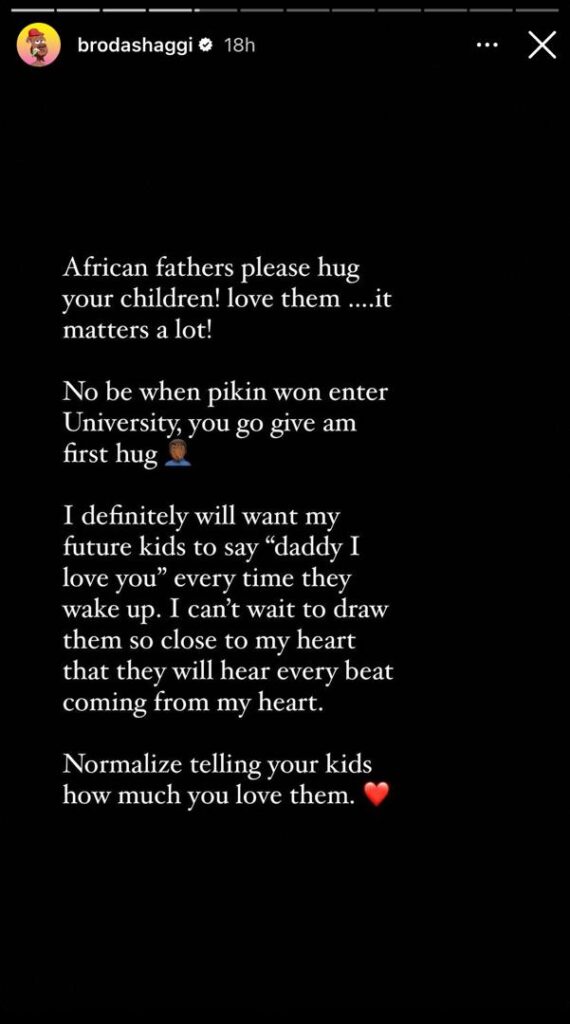 A while back, Broda Shaggi reacted after music icon, Wizkid, unfollowed him and a number of other celebrities on Instagram.
The official Instagram profile of the Grammy-award winner and Nigerian superstar singer with over 15 million followers appears to have undergone recent edits.
While Wizkid has 15.9 million Instagram followers, his following reads "Zero."
Comedian Broda Shaggi, taking to his Instagram stories to react to the development, wrote, "Wizkid don unfollow me too! I won't eat anything for 3 years… Only water. Who vex popsy o".