Pastor, Mrs. Obot Etuk has advised individuals to be careful not to minimize their parents' contributions anytime they get the chance to make a victory speech.
In a post shared on her Instagram page, Ms. Etuk said that individuals should never take advantage of the chance to praise the sacrifices made by their parents by minimizing their efforts and claiming they started from nothing.


She wrote;
"In your victory speech ladies and gentlemen, never embarrass the effort of your parents by saying you came from nothing. Whatever you had then was what they could afford. And they gave it to you with love.
Make them feel better by praising them.
Remember, we reap what we sow."
See her post below;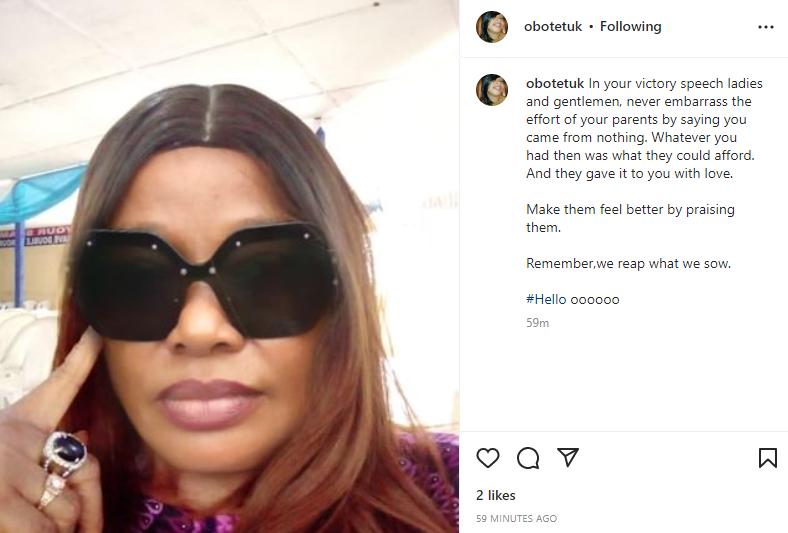 A while back, Mrs. Obot Etuk advised all young ladies out there to desist from pre-marital sex.
In a post she made on her Facebook wall, she declared that sex cannot be used to prove love. Adding that even animals have sex, but then it doesn't mean they are in love.
She wrote;
"My young lady……..
if he is insisting on sex before marriage, he is not the man for you. You cannot use sex to prove love. Goats have sex. Infact, dogs have sex and everywhere too but they are not in love.
If sex means love, then the prostitute should fall in love with every man she has sex with.
Sex is meant for marriage young lady. Waiting is the real love. It is mark of maturity. That is the kind of man you should say yes to, not the one that wants you to compromise your virtue, pride, dignity, just to satisfy his lust.
And how many will you love cos I'm sure he's not the only man you've had sex with.
#EyenBoIfiok
#TruthIsBitter
#LearnFromOthersMistakes"