In the trending clip that has elicited mixed reactions, the church members who were dressed in their white sutana were dancing and merry-making with bottles of alcoholic drinks in their hands.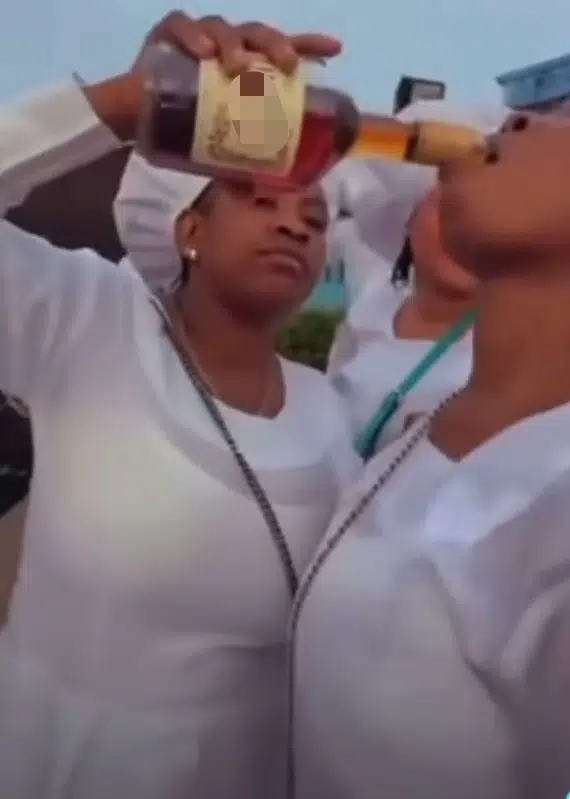 Although it is unclear what the occasion was, the video clearly shows that the church members were having a good time.
At a point in the video, the ladies are seen passing around a bottle of Hennessy while hailing themselves.
The clip stirred conflicting reactions from social media users. While some netizens criticized them, others saw nothing wrong with their actions.
An Instagram user @officialbobbyfredrick_ wrote, "These ones dey give their life to Christ dey collect am back after church service".
@h.e.r_excellency, "Atrocity too full this church. One is beside my house I know what I'm saying."
@gungirl001 wrote, "Not trying to stereotype, but this particular church ehn!"
@iam_ajebuttar7, "This is why the other religion have no respect for ours because we don't even respect our religion I believe there are things that shouldn't be done with the garment but the stupid woke generation will say its wokeness if there is any word like that".
@stanbnx, "Why are people cr'ticizing the church? I'm not a member but we should learn not to generalize things like this, There are decent ones, some of this ladies aren't going to the church to serve God but to have fun."
Watch video below,