Celestial Church of Christ (CCC) members in Oyo state have organized a nonviolent demonstration to call for the resignation of their shepherd, Olusho.
With placards in hand, the congregation entered the church's location at Mokola Army Barracks, Ibadan, Oyo.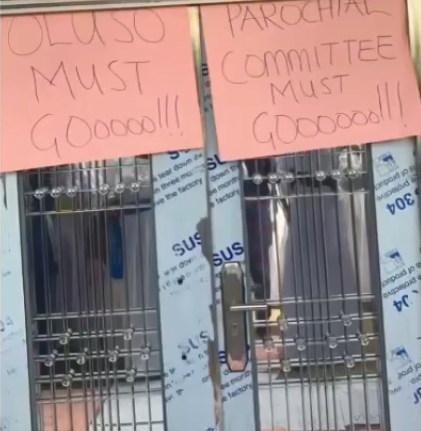 Some of the slogans on the banners read; "Olusho must gooooo. Parochial Committee must gooo"
They insisted that both the Parochial committee and the Head Prophet resign immediately.
A video which surfaced online showed when a dramatic scene occurred after a man believed to be a member of the Parochial Committee challenged them for protesting.
Additionally, news organizations covered the demonstration, which did not sit well with the Celestial Church administration.
In other news, suspected armed robbers invaded a Seventh Day Adventist church in Johannesburg, South Africa as the pastor was preaching.
The incident is reported to have occurred at the church located two streets from Noord Taxi Rank on Saturday afternoon, November 26, 2022.
According to Harare Live, the six gunmen disguised themselves as visitors and as the service began, they drew their weapons and ordered the pastor and the entire congregation to sit down.
The visibly shaken pastor complied with the robbers as the church camera captured the incident. The robbers were said to have carted away phones, wallets, and tithe money.