Sharing the picture, he wrote, "Thank you @PeterObi for coming to the house..may God continually protect you in Jesus name…"
The visit comes weeks after unknown gunmen attacked Apostle Suleman's convoy in Auchi, Edo state, and killed seven persons, including four police men, two drivers and one woman.
At the time, Obi took to Twitter to condemn the gruesome attack and condoled with the clergyman and his family.
See the post below,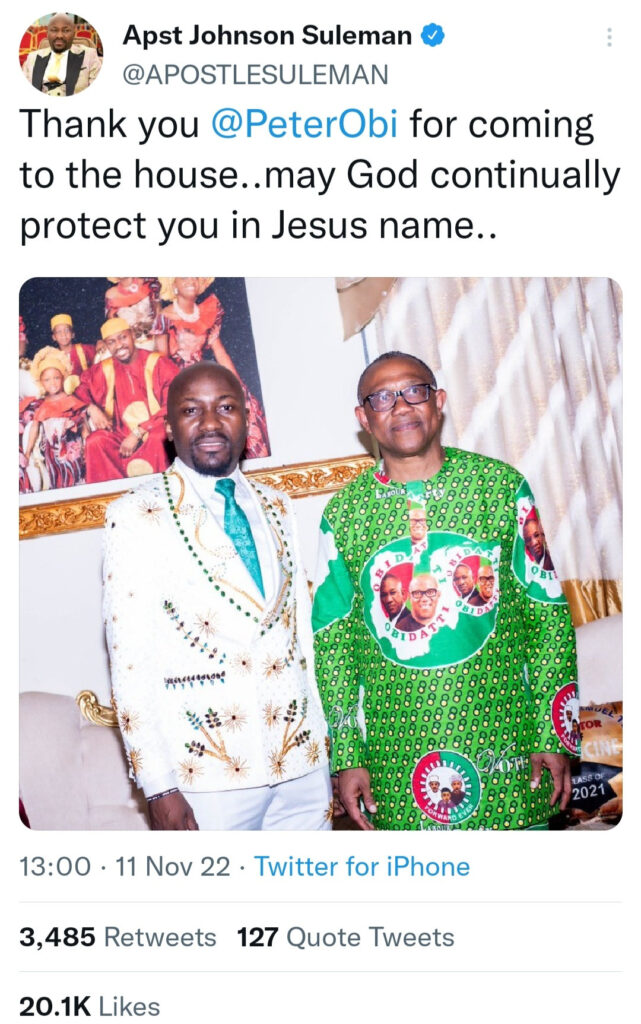 Following the attack on Friday, October 21, Apostle Suleman in a video shared on his church's social media page, said he knows those behind the attack but won't mention their names because they will come out to debunk the allegation.
He said in part,
"I just escaped an assassination attempt where seven people were killed. They opened fire on my car. My wife and my kids were there. The escort car with police, they killed the policemen. They killed the other people in the escort car, the bus, that were with us. They killed seven people.
People who did this are expecting me to come out and mention their names, so they can come out and deny it but I won't do that. The truth of the matter is, you can't kill me, my life is in the hand of God, I'm a man of God." Watch him speak here